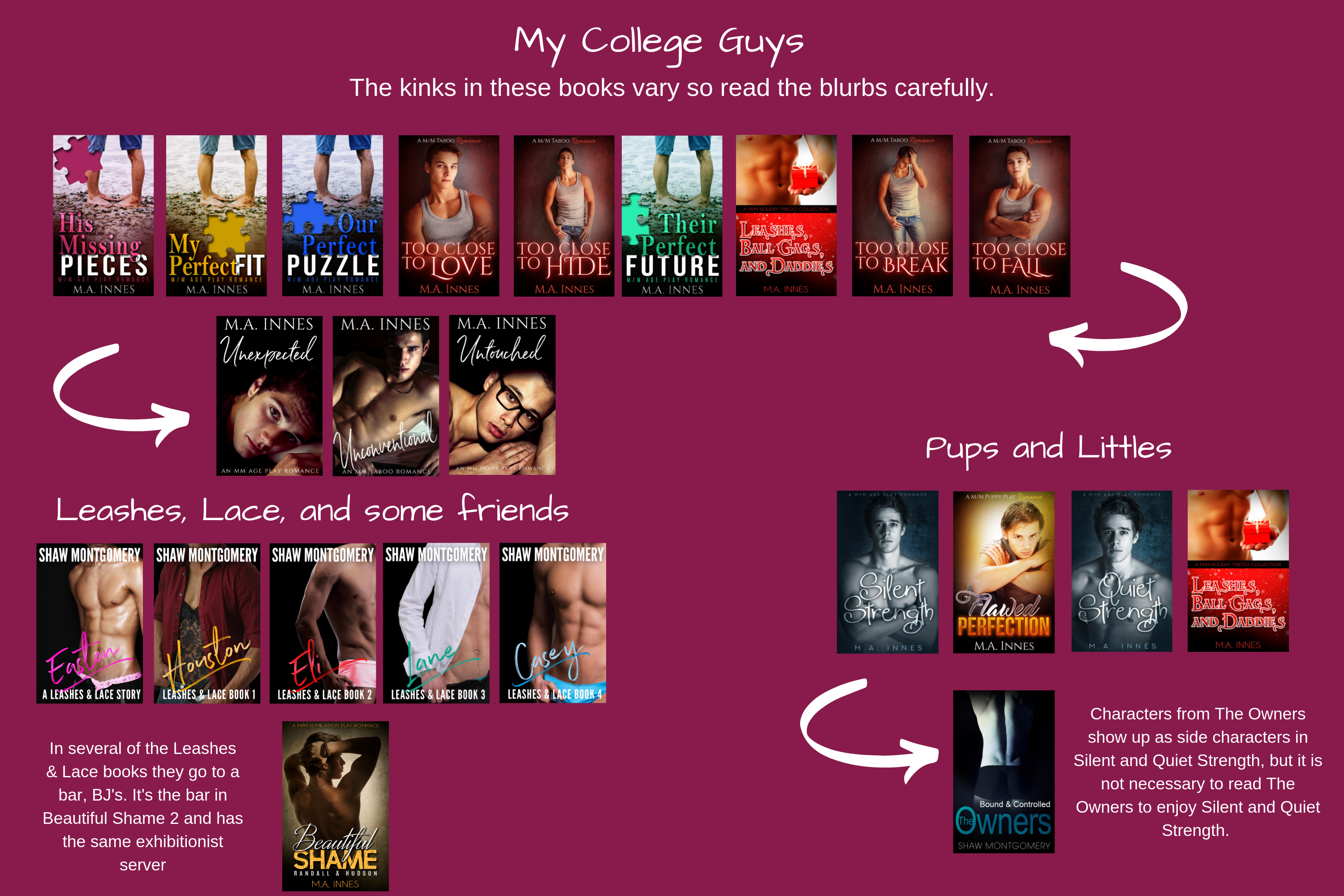 While I've written a few completely standalone books, most of my stories take place in the same "universe" and overlap at least a little. The most common way this happens is by neighbors or side characters in a book who have their own story.
Since I write about a variety of topics, I do my best to make the side characters stories unnecessary to the main story you are reading. These are some of the most common stories that overlap with side characters.
Toward the end of the series the two main characters from the Loving series (Too Close To Love, book 1) show up as neighbors. Jeremy and Kevin have a four book series that is for sale on my website or on Excitica.
Eric (MC) was originally a side character in Flawed Perfection. Nathan, the MC in Flawed Perfection, does show up as a side character in Silent Strength and Quiet Strength. There is some overlap in timelines but Flawed Perfection and the Strength books can be read as two separate series/books. If you wanted to read them in chronological order then it would be Silent Strength, Flawed Perfection, and then Quiet Strength, HOWEVER I would suggest reading Flawed Perfection first and then Silent Strength and Quiet Strength.
The four main books in this series along with the prequel, The Owners, are mostly standalone books, but they're best read in order. There are cameos from these characters in other stories, like the Strength books, but it's Ben and Conner from The Owners who have the most cameos in other books.
While mostly standalones, the bar BJ's is a common location in this series and in several other books. BJ's, and it's owners Jake and Andrew, appears in the second Beautiful Shame book and in Rethinking Fate.
These books are standalones but because of the number of side characters that overlap in the books they are best read in order. You'll also see cameos from the Loving series characters and the guys from the Pieces books as well as Dr. Sheppard and Detective Avery.
Bryan and Maddox from the Pieces series make several cameos in Too Close to Break and Too Close to Fall, as the best friends and neighbors of Jeremy and Kevin. There are also several scenes with Dr. Sheppard and Detective Avery.